Our services
We are here for you. We will give you peace of mind, with services that keep your turbines running smoothly.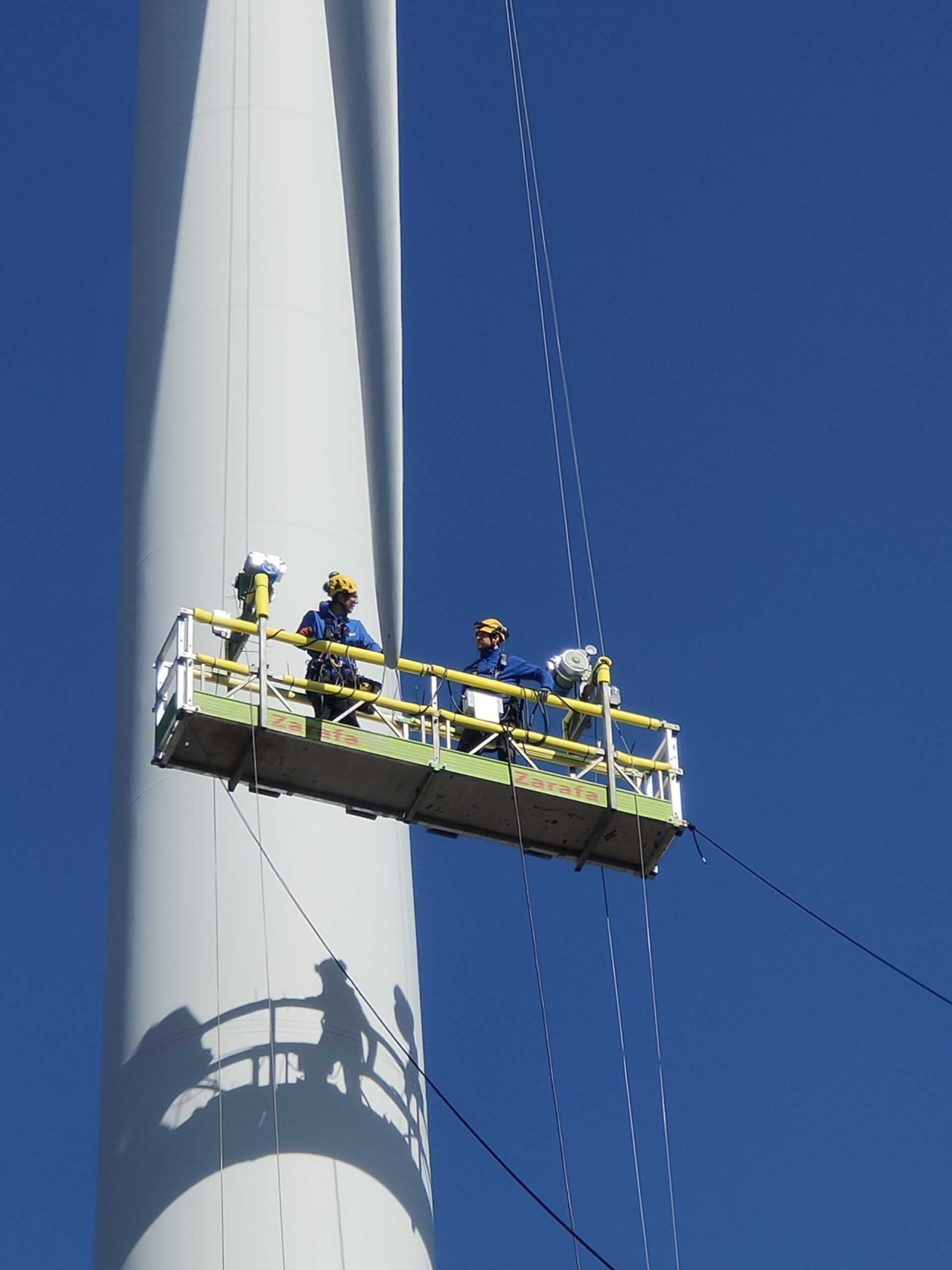 Wind turbine maintenance

Regular maintenance
Full Circle is committed to enhancing performance, and we understand that capturing the maximum available wind ensures the highest energy output. Even a small breakdown can have a large impact on the performance of your turbines, that's why we recommend investing in regular, scheduled maintenance. Taking a proactive approach to maintenance will ensure less downtime and increase your annual energy production.
Get in contact to learn about our range of ongoing service packages to suit any budget.
Corrective maintenance
Things don't always go to plan, we get it.
If your turbine breaks down Full Circle is here to help. With our experienced engineers, we can work on a wide range of turbine models in the event of a breakdown. With our product expertise, an extensive engineering team supported by our backoffice and in-house supply chain department, we offer flexible and tailored solutions.
You can rely on us when things go wrong – get in contact today.
24/7/365 remote monitoring

To realise the full benefits of wind power, we know you need to keep turbines in good condition and make sure they are available to generate electricity at all times. Full Circle is able to monitor and analyse the performance of wind turbines 24/7. Our monitoring teams are alerted when a turbine's performance strays outside of normal parameters, guaranteeing the earliest possible response to any irregularity.
Remote monitoring means we are instantly able to plan necessary maintenance, minimising the time your turbine is down. Our remote teams can diagnose and resolve most issues that arise with a turbine. When we can't, they will schedule a site visit by an experienced local team. With access to parts and a thorough understanding of turbine technology, an on-the-ground repair team can respond quickly to resolve issues.
Get in contact to learn more about our remote monitoring technology.

Blade inspection and repair

We offer a comprehensive range of blade inspection, maintenance and repair services. Our dedicated blade teams are reliable and multi-skilled, capable in all facets of blade work from the provision of full inspection reports, to the application of leading-edge protection, all the way through to major repairs such as complete tip replacements.
Our team is fully certified and has direct experience with: EWT, Vestas, Siemens, Enercon, Senvion, Nordex, Bonus, LM, Repower, Samsung, Move and Gamesa blades. If you are in need of blade inspection or repair get in touch today.
Something not up to scratch? Contact us for comprehensive blade services.
Statutory inspections
The safety and compliance of your wind farms is important to us. Our statutory inspection team is currently responsible for the inspections of over 400+ turbines throughout Europe and North America. We provide a variety of options for our clients to ensure they remain compliant with current legislation.
Don't get caught out on technicalities, contact us today.
Get in touch
To find out more information about any of our services, get in touch below.
Contact us