The power behind wind power: interview with Zane Godwin, Wind Turbine Technician and Blade Specialist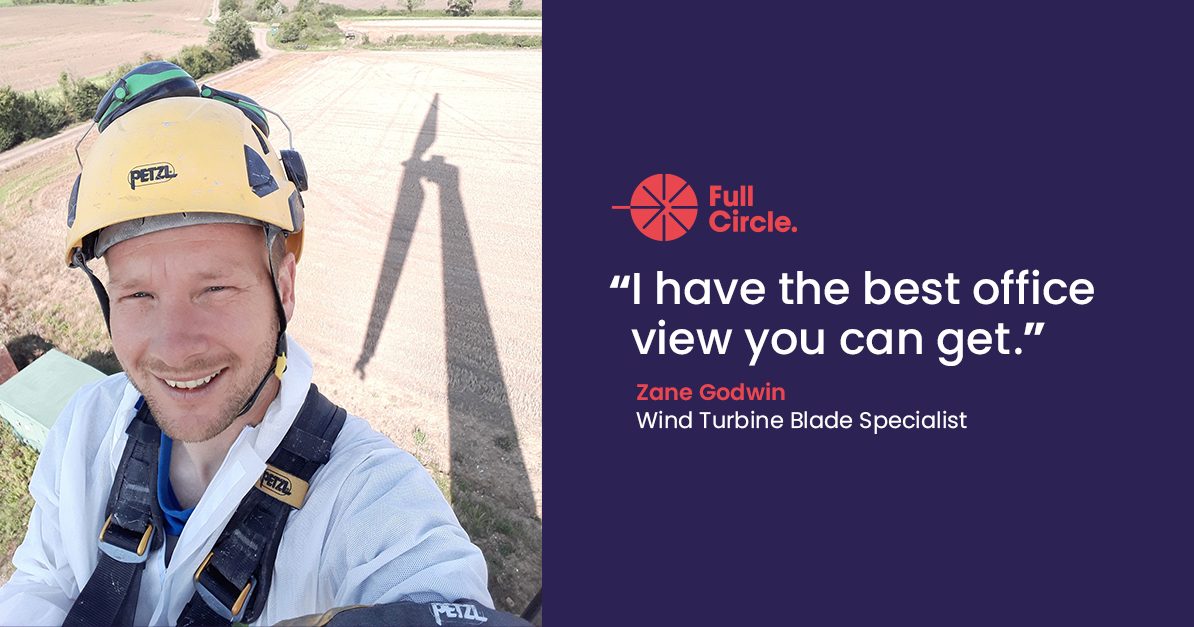 We interview Zane Godwin, Wind Turbine Technician and Blade Specialist, to understand more about Full Circle's approach to blade repair and maintenance.
What sort of blade problems do turbine owners commonly encounter?
I've got 18 years' experience in the field as a Wind Turbine Technician and Blade Specialist and have seen a lot in that time.
The average turbine can be turning for decades at around 100mph, with fine particles constantly blasting its surface. Over time, this wears down the leading-edge protection and the damage can penetrate the main structure, the fibreglass of the blade itself.
There are 'acts of God', such as lightning strikes, bird strikes, fallen objects, even golf balls! Sometimes when a wind farm is situated near a forest, they can develop a problem with algae. We also have to correct factory issues, faults or weaknesses with the blades from when they were produced, which come to light further down the line.
Photo credit: Grant Durr, Unsplash
How are the earlier models faring?
Many wind turbines in the UK can be up to 20 years old. With older blades from pre-2010, it was very new technology. The knowledge we have now in comparison is incredible. We're seeing some defects and stress cracks. It's getting windier, the turbines are more in demand and in constant use, so these issues are coming to light. With a quality repair and regular maintenance, there's no reason they shouldn't keep turning for many more years to come.
What's different about the Full Circle service?
Our team has an incredible breadth and depth of knowledge and experience. We've completed the different training packages for each manufacturer – every blade requires different training – like pilots, who have to complete training for every different model of aircraft they fly, it's the same with blades. You have to be a trained and qualified Wind Turbine Technician to work on each individual brand. At OEM companies, repair staff might only be trained on one specific brand. We can repair all the major brands, from Vestas, Siemens, Siemens Gamesa and Enercon, to Nordex, LM, Bonus, and of course ETW, to name but a few. So if you're an owner of a mixed-brand wind farm, or you're out of contract, or have a third-party agreement, we can help.
Find out more about our full range of services here.
What makes the Full Circle blades and repair team so extraordinary?
In addition to the knowledge, expertise, and experience across the different brands, we've also got experts stationed across the UK, so we can be as responsive as possible. But it really comes down to our attitude and approach. We have a 'zero-stress' approach to solving problems. A can-do attitude. When we come across a difficult job, we always get it done. It's important to be able to give that 100% reassurance to our clients.
We're all on the payroll, there are no subcontractors, so every member of the team takes personal responsibility for what they do. With every job we put our reputation on the line, and we take that very seriously.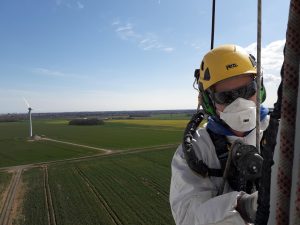 What's top of mind for turbine owners?
In a word, downtime. They need to keep their wind farms as productive as possible. If they're not turning, they're not earning. It's a good idea to get blades inspected regularly, so any problems are identified early. Small damage has the potential to cause downtime six months down the line. New blades normally have four to five years of leading-edge protection from the factory. How long it lasts can depend on geography and weather conditions. It's good to keep up with leading-edge maintenance; you can usually tell about a year in advance when it might start to fail, so there's an element of prediction, which is helpful.
You talked about the ability to be responsive. How quickly can you get out to an owner?
We can mobilise within a week, sooner in an emergency, and can fix a blade in a day. Being able to react and respond quickly is vital, and our broad knowledge and experience helps us to know how to prioritise jobs, based on the level of urgency. We'll always find a way for an extremely urgent case.
Take us through the overall blade-repair process.
It all starts with obtaining photographs of the damage. If the client can't send them, we'll send someone out. Once we've seen the job pack, we can assess the priority level.
Then we conduct a 'toolbox talk' with the wind turbine technician involved and the rope access kits are prepared. After that, we crane two technicians up to the top of the turbine to rig the ropes. We can then abseil down, against the blades and assess and repair in situ.
All our Technicians are IRATA rope-access trained from levels 1 up to 3. We can also use power climbers and cherry pickers. Occasionally we may have to remove a blade and repair it on the ground so a Wind Turbine Blade Specialist can have a better look.
What's involved in the repair itself?
If we're repairing a lightning strike, for example, the first step is to remove the damaged material on the blade surface, cutting out the fibreglass and making sure the material underneath is still workable. Once the subsurface is repaired, we work out how many layers need to go back in and cut fibreglass to size, making sure the staggers and overlaps are all correct. Then it's time to laminate – we mix resin, and laminate the fibreglass on to the blade surface. Next, the newly laminated surface undergoes a cure cycle using a heated blanket. Once fully cured, we inspect the surface for voids and prepare the surface for coating. After any filler has set, we sand it down and apply the paint.
How do you want the turbine owner to feel when they choose Full Circle services?
It all comes back to our zero-stress approach. We don't want our clients to have any additional stress. We want them to have complete confidence that the service they'll receive is the very best they can get. They want someone who is really reactive, and an expert. At the end of the day, all they want is to get it up and spinning.
Want to find out more about Full Circle's approach? Click here.
What do you love about your job?
Every day as a Wind Turbine Blade Specialist is different. No repair is ever the same. Every turbine has a unique view. I love working in the fresh air, and there's plenty of it 50 metres up! As far as I'm concerned, I have the best office view you can get. We're a great team, we work well together and there's a lot of job satisfaction. You go out in the morning to a turbine that's not working and by the end of the day it's back spinning… and that's a beautiful sight.
Get in touch
To find out more information about any of our services, get in touch below.
Contact Us